Undisclosed mixing Of Lab Grown Diamonds in Jewellery: How to protect your business for consumer confidence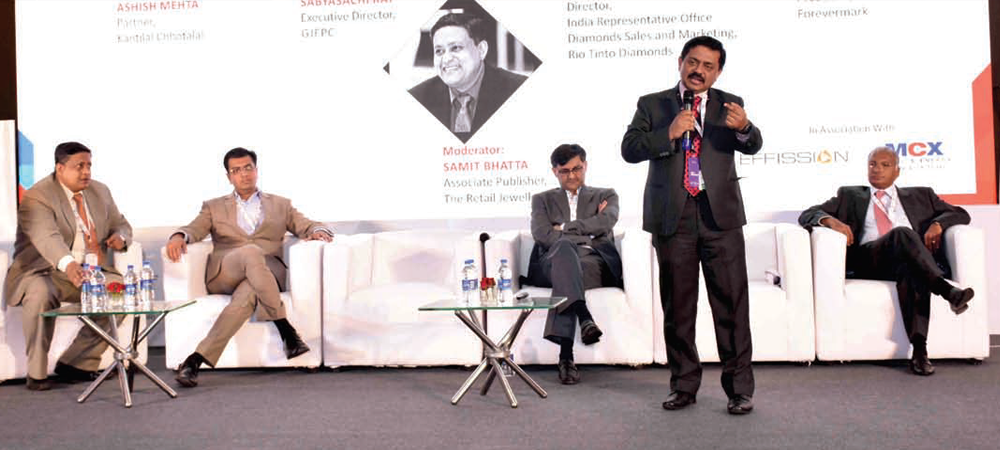 Ashish Mehta, convener, Natural Diamond Monitoring Committee (NDMC), GJEPC
Sabyasachi Ray, executive director, GJEPC
Sachin Jain, president, Forevermark India
Vikram Merchant, director, India representative office, Rio Tinto
The 20th century messed with the perfect metaphor of the diamond as immortal and changeless. The first synthetic diamond was produced in 1954, by applying high pressure and high temperature (HPHT) to graphite. Synthetics were and are meant mainly for industrial use, typically as abrasives. But the first gem-quality diamond was made in 1970. In 2005, CVD (chemical vapour deposition) diamonds were developed.
Today the gems and jewellery industry experiences synthetics as a threat. Given the great expense of mining natural diamonds, and the inflexible supply, synthetics are comparatively cheap to produce. Unscrupulous traders mix synthetics with natural stones, pricing the entire batch as natural.
This subject was tackled by four industry leaders at the fourth session of the Retail Jeweller India Forum 2017, titled "Undisclosed mixing of lab-grown diamonds in jewellery: How to protect your business for consumer confidence". It was moderated by the magazine's publisher Samit Bhatta.
"Synthetics in rough form are easy to distinguish from natural," said first speaker Ashish Mehta of the Gem & Jewellery Export Promotion Council (GJEPC). "But high-quality HPHT and CVD synthetics can be cut into gems. These are difficult to distinguish from natural diamonds." Synthetics use is going up in Surat, Gujarat.
The industry acts
The Natural Diamond Monitoring Committee (NDMC) was formed two years ago by the GJEPC, All India Gems & Jewellery Trade Federation (GJF) and Mumbai Diamond Merchants Association (MDMA), jointly. It includes representatives from the Gemological Institute of America (GIA) and Gemmological Institute of India (GII).
The NDMC's main objectives are to coordinate the trade players and industry bodies, secure consumer confidence and centralise knowledge dissemination on synthetics.
"In 2012 we saw media reports about big quantities of illegitimate synthetics in the market," said Mehta, who is convener, NDMC. "In 2013–14, the GJEPC hired consulting major A T Kearney [ATK] to study the issue. The GJEPC and BDB [Bharat Diamond Bourse] hosted seminars by De Beers, the GIA and GII on the detection of synthetics. They organised a demonstration of detection instruments in Mumbai. The GJEPC held several more sessions around the country. It is currently planning a 21-city synthetic awareness programme."
According to the American Free trade agreement's (FTA's) new guidelines, the word "diamond" will now signify a natural diamond only. "Anything but natural," said Mehta, "and you'll have to use an adjective like 'lab-grown', 'man-made' or 'synthetic'."
To counter undisclosed mixing, ATK proposed a fourfold approach.
Regulatory: change the access code and check the consumer protections. [What does this mean??]
Commercial: any diamond transaction between two parties should involve a standardised, written declaration.
Process: check for authenticity and detect synthetics at the time of sale.
Technological: improve testing equipment to make checks cost-effective, speedy and reliable.
"We tested the constitutions of the GJEPC, BDB and MDMA," said Mehta. "They have been tightened. If any member is found to be behaving fraudulently, the association may expel the member and inform other members."
BDB has bound trading of synthetic diamonds within its premises. The GJEPC and BDB have set up a redressal committee. "Members are encouraged to report undisclosed mixing," said Mehta. "The committee gives all parties involved a fair hearing. In three cases it has found parties guilty of mixing, and BDB took appropriate action. One party subsequently sued BDB for Rs500cr and wrongful hearing, but the court ruled in favour of BDB."
"The people in Surat who were trying to mix are finding it more difficult," said Mehta, "because a lot of these goods pass through BDB, and we run checks at the retailer level as well." However, "Some of these synthetics may be getting set for the regional market."
Will there be support from the government? "The Ministry of Consumer Affairs has specific standards on what qualifies as a diamond and non-diamond," said Sabyasachi Ray, executive director, GJEPC, in the second presentation. "We've worked with them to refine the standards and give them teeth. But, for the government, this is like any other product. We cannot expect much enforcement from there."
Annually, said Ray, "120–130 million carats of rough come into India, of which an estimated 2.5–3 million carats are synthetic. Synthetics are predicted to reach 5 million carats in the near future.
Detection and technology
Gem-quality synthetics can be distinguished only with the right equipment. The GJEPC helped establish the Diamond Detection and Resource Centre, housed in BDB, which offers a quick testing service to identify synthetic diamonds. "With 10 machines available, it also trains operators," said Mehta.
"Today, enough devices are paired with skilled operators, so the machines are achieving better throughput," he added. "In 2014, when we started, the machines cost €70,000–80,000. Now they are Rs3–4 lakh. The testing machines now can handle not just loose stones but also stones set in jewellery."
You are responsible
"Each of us has to change our buying behaviour," said Sachin Jain, president, Forevermark India, a De Beers subsidiary, the third speaker. "You have got to have complete confidence in your suppliers. Today's technology will give you accurate answers."
"If you are the point of sale," agreed Ray, "you are responsible legally, you have to do due diligence. You cannot outsource your responsibility to your supplier."
"Deal only with people you trust," said Mehta. "Minimise the risk of contaminated goods entering the pipeline. Adopt the standardised declaration recommended by the World Federation of Diamond Bourses [WFDB] to affirm that all the invoiced diamonds are natural and untreated." The WFDB recommends a 30-day window after which a buyer can be assumed to have conducted independent testing.
"Maintain KYC/KYS records," Mehta added. "In some customer complaints received by BDB, there was no proper billing or documentation. In such cases it is not possible to take action."
The gift of trust
"For us the most important moment is when a customer walks into a store," said Jain. "A father looking for bangles for his daughter's wedding, a couple selecting an engagement ring. We can take so much inspiration from our business."
And from the product. "Diamonds are gifts of Mother Nature. They are miraculous, precious, finite and have enduring value. From De Beers' standpoint, sustaining consumer confidence in diamonds is the foundation of our business. If that gets shaken, it's the end."
"Our research shows that 79 per cent of US consumers say that knowing that their diamonds are responsibly sourced is important to them," said Vikram Merchant, director, India Representative Office, Rio Tinto, in the final presentation. "Ninety-two per cent of Chinese consumers say that knowing their diamonds' country of origin is important. Seventy-four per cent of Indian consumers say that knowing their diamonds' mine of origin is important." Clearly, undisclosed mixing is a major risk.
Major miner moves
"De Beers anticipated that synthetics would play a larger role in the market," said Jain. "Forevermark was one of our answers. Every Forevermark diamond is strictly evaluated and certified, and the best companies in the world use them." Every Forevermark diamond of 10 points and up carries a unique inscription. Customers value this certainty.
"At Rio Tinto we manage the diamond production from our Argyle mine in Australia and Diavik mine in Canada in separate product streams," said Merchant. "We have a proprietary chain-of-custody system with independent auditors, traceability and segregation of diamonds from mine to marketplace. We track the gems throughout the manufacturing process so that you, the retailer, have a sense of assurance. You, in turn, can convey this assurance to your customers."
Tracking each stone is a complex task. "For the production from our Australian mine alone," said Merchant, "we have a supply chain of 520 diamond and 27 jewellery manufacturing units." Since the chain-of-custody programme was launched in July 2016, 2 million carats of rough have gone through the system. "Each diamond comes with an Australian diamond certificate of authenticity," said Merchant. "The consumer can buy with confidence, and wear with pride."
The work doesn't stop there. "We also prepare marketing materials to support retailers," said Merchant. "We have a whole raft of devices for in-store marketing and visual merchandising. We use digital media, websites and social media to promote this initiative."
"We are not saying that synthetic stones cannot be allowed," said Mehta, "but there has to be clear differentiation" — in everybody's interest.