Sparking a new age of diamonds creating a Meaningful Tomorrow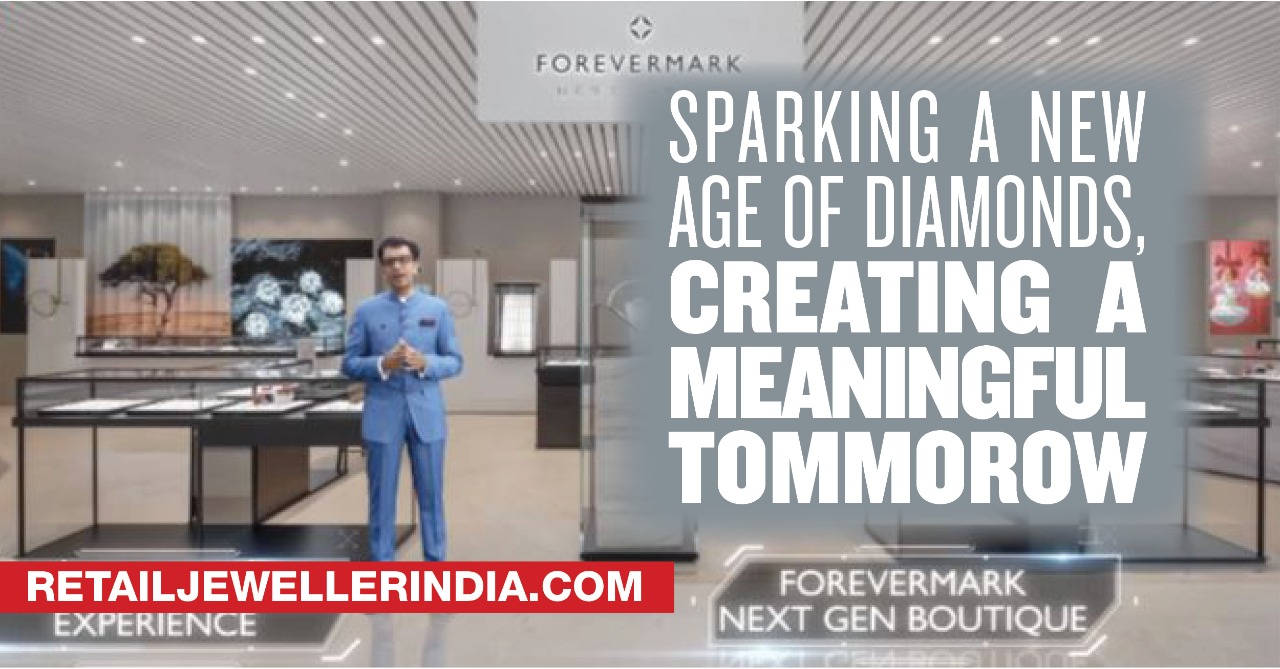 The Forevermark Forum 2020  began on August 18, the first time on a virtual plane, and gave us an insight into the future of the diamond industry. Let's delve into the keynote messages for the way ahead:
"In all of this chaos, there is a quiet method at work. There is regeneration and change in the hope of a better tomorrow. The pandemic has brought out the true meaning of what really matters to people, and diamonds have immense value in adding more meaning to people's relationships. Every action we take today is setting the foundation for very deep and meaningful tomorrow."
Sachin Jain, De Beer's MD in India, opened the Forevermark Forum with this resolve and a clear plan for the diamond business that has been torn apart by an "invisible" enemy. Covid-19 struck the whole world, and ravaged through livelihoods, the jewellery sector not exempt. Business roadmaps and plans for the future were dismantled like a card castle and everyone suffered the blow.
Virtual is the new normal with people stuck behind the safety of closed doors. In these trying times, Forevemark did not shy away from conducting its annual Forum for its partners and retailers. The opening day of the first virtual forum had more than 7,500 people taking part in discussions and polls. With Jain, the other keynote speakers were Bruce Cleavers, CEO of De Beers, Stephen Lussier, chairman of Forevermark, and Nancy Liu, CEO of Forevermark.
Jain outlined the theme of the Forum — Meaningful Tomorrow — which encompasses the idea that Forevermark's tagline exudes: Diamonds are forever. He said Covid had accelerated our pace of doing things that were already planned, and the future would be a test of our ingenuity and capacity to shed rigid ways of thinking. He outlined the new mode of execution — technology, ethics and provenance. With stress on the digital push, Jain earmarked the launch of Forevermark's new app for retailers (FMX), to ensure that the supply pipeline keeps running in India, their biggest market in the global space. What he stressed on most was the golden truth in business: The customer's need is foremost and they should have enough at display, in the proper setting, to make an informed choice when they buy a Forevermark stone.
Bruce Cleavers gave everyone an idea about the virtual forum this year. There will be new ways to engage with partners, with augmented reality for the virtual mind and live knowledge sessions. All senior partners worked on the same thing: With the pandemic claiming lives every day, people have started valuing relationships. Once it all passes, customers will want to express their love with something that is enduring and lasting. Forevermark realizes all these needs and is a trademark in itself, because of the value it brings with the brand name — a must-have for people now. Diamantaires need to capitalize on this opportunity because the expression of love is not done any better than a gift of diamonds. Forevermark's strict filter in picking out only the very best will go a long way in enhancing customer experience — to buy a Forevermark diamond is a memory made, and therefore, lasting.
Stephen Lussier pumped up the morale with his message on optimism. Forevermark has taken steps to streamline the diamond sector — flexibility in purchase of rough stones, allocation from site-holders, altered payment options, relief pay to suppliers and education for partners. "Producers, retailers and manufacturers need to find a way to help each other," he said.
The Forum presented a research on the Indian consumer's behaviour during the pandemic. Among many things, what stood out was the propensity to spend on fewer and better things. Diamonds are meaningful and have lasting value, so the industry needs to tap on that sentiment. Forevermark is a step ahead because it has answers to all doubts on sustainability, responsibility and authenticity in an era of uncertainty. In India, 81% of people surveyed bought diamonds for themselves and others bought them as gifts. This proves that Indians prioritize diamonds over other luxury buys. To them, it's not just a way to spend money but an investment, so the pandemic will not come in the way of business.
Nancy Liu spoke about the increasing online shopping trends when it came to diamond jewellery, and how India was the global leader in the industry now. "While increasing our presence online is a must, there is also the need to bring back customers to retail store. For this, they have to feel safe and steps must be taken accordingly," she said.
Forevermark showcased three new collections on the first day of the forum — The Forevermark Icon collection that answers "what's new?", the Forevermark Tribute Collection that celebrates the strong and confident Indian woman, and the Forevermark Trend collection that focuses on four modern design angles to woo millenials.
Jain announced his plans to open 15 Forevermark boutiques in the country by the end of the year and charted the plan ahead before bringing the keynote session to a close: Focus on younger buyers with modern designs and approach, advertising the brand name with special focus on storytelling, so that every diamond bought becomes a memory, and on tapping e-commerce opportunities with training and resolve. He also announced retailer incentives for the festive season to boost growth.
So, in all, Forevermark's commitment to growing the diamond business in sync with the new reality shows their focus to make a meaningful tomorrow in the jewellery sector in trying times and we can't wait for what's next.
Courtesy: Retail Jeweller India News Service