On Valentine's Day Ausper launched 'Ausper LUV', a visa powered gift card launched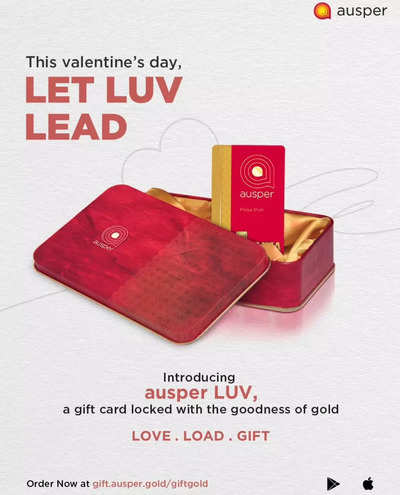 A gold-tech platform Ausper (that offers India's 1st visa-powered card for purchasing gold jewellery) has announced a Valentine's Day offer. The company has introduced Ausper LUV, a Visa-powered gift card.
The company reveals that it is a pre-loaded visa-powered gift card which offer below mentioned benefits:
-Gift of gold to anyone, anytime, anywhere!
-Gift gold for as low as Rs 2000
-Gift freedom to choose from jewellery brands one loves
The company claims that using the Ausper LUV gift card users can make a gold purchase of their choice from any jewellery brand across India. With the Ausper cards, one can get exclusive deals and offers on purchases.
Speaking about the offer, Isha Sapra, Co-founder & CEO, Ausper said, "We are very excited to introduce Ausper LUV to our valuable customers to celebrate the season of love with the gift of gold. We aim to make gold accessible to all anytime, anywhere, providing them with the choice of easy gold gifting that starts at a minimum amount of Rs 2000/-. We are very hopeful of the campaign's success, which will reach the maximum number of people and help them get gold on every 'shubh mahurat."
"We have received good responses from the jeweller's network and the market since the introduction of ausper LUV. We believe that it is the smartest gifting choice this Valentine's season, which makes the occasion even more deep & thoughtful. As it goes, 'Promise of gold is a promise of love', one can look at recreating golden memories by value-adding relationships with the gift of gold with such remarkable deals and offers," said Tejas Mehta, Co-founder & COO, ausper.
Courtesy: Times of India