The World Gold Council launched its report 'Jewellery Demand and Trade', as part of a series of in-depth analysis on the Indian gold market. The report examines the demand and importance for gold jewellery in India after a shift in the consumer behaviour over the years. It throws light on the jewellery segmentation in India while also dissecting the regional, income and demographic demand for gold jewellery. It further explores some of the largest gold jewellery export destinations for India and a solid outlook for the industry.
India, the world's second-largest consumer of gold jewellery, has experienced rapid change over the last few years due to evolving demographics.1 Weddings and festivals remain the most important drivers of Indian gold jewellery demand: bridal jewellery alone accounts for at least half of the market share. 2 Over the long term, gold jewellery demand in India will be driven by developments in economic growth, income growth and wealth distribution, as well as the rate of urbanisation.
India's gold jewellery exports have grown over the years, rising from US$7.6bn in 2015 to US$12.4bn in 2019, before the pandemic impacted the trade in 2020. 3 Looking ahead, there is a greater need for Indian gold jewellery exporters to develop new markets; currently, nearly 90% of exports go to just five countries.4 But a boost could come in the form of further proposals that will allow advance payments to overseas precious metal suppliers, as well as the formation of the mega-CFCs (Common Facility Centres) in the Santacruz Electronics Export Processing Zone (SEEPZ) of Mumbai and Surat.
Executive summary
Somasundaram PR, Regional CEO, India, World Gold Council, said, "India is a strong pillar of support for the global gold markets as the second-largest consumer of gold jeweller. While weddings and festivals act as important drivers of jewellery demand, our rich cultural heritage and historic status as a major global force in world commerce underpin this strong socio-economic relationship with gold. Over time, we have created countless reasons and joyous occasions to accumulate gold. Bridal jewellery segment alone accounts for nearly half of the market share with rural India being the largest consumer of gold jewellery in the country.
"Over the long term, gold jewellery demand in India will be driven by economic growth, income growth and wealth distribution, as well as the rate of urbanisation. Whether cultural connections will continue to remain strong with the millennials is to be seen. It is more likely though that the marketing and digital advances may change in-store experiences and inspire different buying impulses and moments beyond just the traditional reasons, the attraction to gold jewellery can be expected to remain strong. The government's focus on strengthening jewellery manufacturing and exports will bring in a wave of innovation that should refresh the association with gold through higher quality and craftsmanship, enabling India to be the jeweller to the world."
Bridal gold jewellery dominates the Indian gold jewellery landscape
Gold is intrinsic to Indian culture, closely tied to religious beliefs, tradition and festivals. Bridal jewellery dominates the gold jewellery landscape, enjoying 50-55% of market share; weddings, together with festivals, constitute the two major gold purchase occasions in India. In the absence of official records, the country is estimated to have around 11-13 million weddings per year.5 With women marrying at an average age of 22 and with more than half of the country's 600 million population below the age of 25, demand for bridal jewellery looks set to remain strong over the long term. 6,7 The importance of this type of jewellery in India stems largely from the fact that the gold gifted to a woman for her wedding is solely her property and is therefore an important form of financial security.
Agriculture remains important to gold demand. India has seen significant urbanisation yet 65% of the population still live in rural areas and depend on the land for their livelihood. Gold remains the most popular form of investment for these communities and while access to bank accounts has increased, faith in gold has not diminished. Gold demand in this segment is seasonal, closely linked to the success – or otherwise – of harvests.
Plain gold jewellery retains a dominant market share
Despite the traditional nature of India's gold demand, consumer behaviour over recent years has changed and continues to do so. Plain gold jewellery maintains 80-85% of market share, the majority of which is 22-carat although the market for 18-carat jewellery is growing. 
The country exhibits distinct regional preferences. Studded jewellery – known as Polki, Kundan or Jadau – has an estimated market share of 15-20% overall, although in Northern India this share is considerably higher.  In the South, consumers are more inclined towards plain gold products, 60-70% of which are studded with diamonds and the remaining 30-40% set with precious or semi-precious stones.
Manufacturers are increasingly focused on producing lightweight pieces to satisfy demand from the younger consumer, especially those who want daily wear gold jewellery that matches their adoptive Western-style attire. Silver jewellery is becoming more common due to high gold prices and platinum is making an appearance, particularly in male jewellery items, but neither appear to have the cultural significance or the aspirational quality of gold and therefore do not pose a major threat.
US overtakes UAE as the largest export destination
India remains one of the world's largest exporters of gold jewellery. In recent years, the US has surpassed the UAE as the largest export destination for Indian gold jewellery.   This reflects two developments. First, the imposition of extra tariffs on Chinese jewellery exports to the US, which has made Indian exporters more competitive and, second, the implementation in the UAE of a 5% import duty in January 2017 and 5% Value Added Tax (VAT) in January 2018, both of which negatively impacted competitiveness. 
But under a Comprehensive Economic Partnership Agreement (CEPA), which was introduced in May 2022, 90% of Indian goods will be allowed duty-free access to the UAE. This will have far-reaching effects as goods sold there are re-exported to other countries and already this has resulted in a substantial rise in India's gold jewellery exports.
Looking ahead
Over the last few years the Indian gold market has grappled with numerous changes in the regulatory environment and in consumer behaviour. Looking ahead, gold jewellery demand will face further challenges. Changing demographics and the possibility that millennials will move away from gold as other luxury items demand their attention cannot be ignored. Against these headwinds, gold jewellery demand will likely benefit from strong economic growth and growing urbanisation as incomes rise and the middle class grows. As more people are lifted out of poverty, gold jewellery demand will benefit.
E-commerce opportunities are increasing and as a more robust regulatory structure emerges to support online gold jewellery sales at home and abroad, manufacturers and retailers will be able to use this to extend their reach.
The Indian government seeks to boost manufacturing and exports, and as consequence jewellery exports are likely to improve further over the coming years. Proposals to allow advance payments to overseas precious metal suppliers and to set up Mega Common Facility Centres (CFCs) in the Santacruz Electronics Export Processing Zone (SEEPZ) in Mumbai and Surat could stimulate growth in the sector if implemented. The CFCs could facilitate sharing of manufacturing best practice and state-of-the-art machinery, which would bring the latest technology and resources within reach of small manufacturers. If these efforts are supported by appropriate communications around both quality and craftsmanship, the future of India's gold jewellery market will be assured.
Jewellery demand
India is the second largest jewellery market
The gold market forms a deeply intrinsic part of India. For the population of 1.4bn, gold, and specifically gold jewellery, plays a central role, acting both as an adornment and a form of investment. It is therefore not surprising that for decades India was the largest consumer of gold before being overtaken by China in 2009.  In 2021 India bought 611t of gold jewellery, second only to China (673t) but comfortably ahead of all other gold-consuming markets (Chart 1). 
Much of the Indian gold market is very traditional, reflecting important cultural and religious ties. This can be seen in the long-standing preference for 22-carat jewellery and the dominance of bridal jewellery. But the gold market is evolving, with changing tastes and designs driven by economic growth, globalisation and changing consumer preferences. In recent years, for example, demand has grown for lightweight and studded jewellery.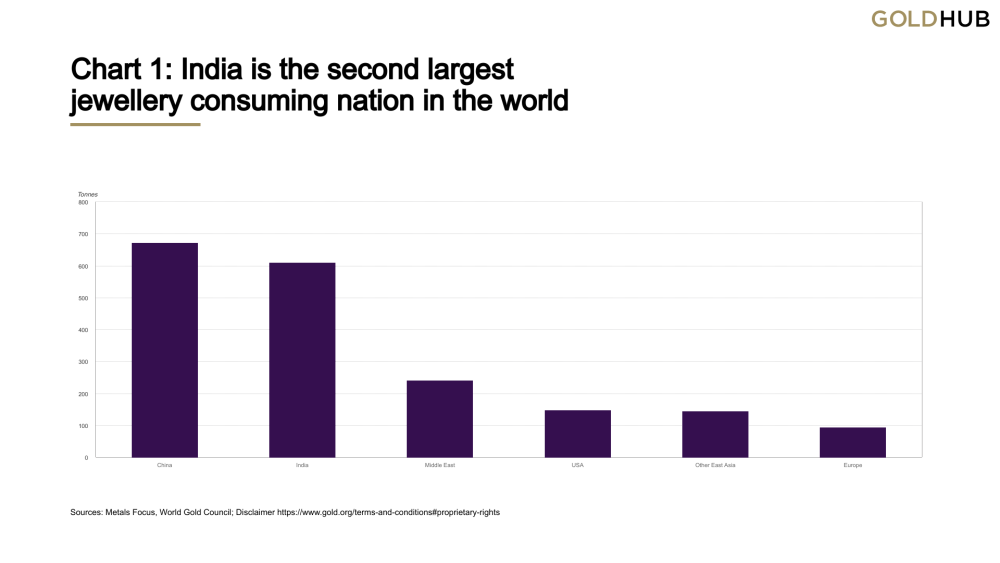 Aside from gold, India has a sizeable and vibrant silver jewellery market and is the world's largest fabricator of silver jewellery. Our 2019 consumer survey, carried out by Hall & Partners, found that 60% of the women surveyed owned gold jewellery, closely followed by 57% who owned silver jewellery, but only 26% owned diamond jewellery.  Platinum jewellery did not appear among the top purchases by female consumers, as this market is still in its infancy in India.
Other markets often reflect on the long-established nature of India's gold jewellery markets – both in scale and importance. The reasons behind gold's history and longevity lies in how these metals are inextricably linked to Indian customs and religion.
Weddings, religious festivals and agriculture drive gold demand in India
Gold is deeply embedded in Indian culture and purchases are often driven by tradition. Typically, all family members are involved in decision making about how and when gold jewellery purchases are made. Discussions over the years between Metals Focus and retail jewellers have revealed that weddings remain the key motive for buying gold in India. As our 2019 consumer retail insights survey demonstrated, weddings were the number one purchase occasion to buy gold (17%), followed by other important occasions such as birthdays (12%) and festivals (11%).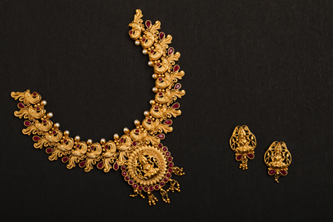 Focusing on the impact of religion and festivals, gold is often seen as a symbol of wealth and prosperity in the Hindu religion. In particular it is associated with the goddess Lakshmi: the god of prosperity, fertility and productiveness. During the country's most important festival of Diwali, Hindus pray to the goddess for prosperity, and gold is an important part of that ritual. According to Hindu mythology the creator of the universe, Brahma, known as Hiranyagarbha, was born from a golden egg.
Gold has always been considered a sacred colour, and so gold adornments are worn for specific rituals and events. In religious ceremonies gold coins are often used for pujas (an Indian worship ritual). Most Indian gods and goddesses wear gold embroidered clothes or jewellery. If one looks at the images of various deities, such as Lakshmi, Ganesh or Krishna, one will always find them wearing some form of jewellery.
During the festivals of Diwali and Akshaya Tritiya it is considered extremely auspicious to buy gold. Dhanteras (the first day of Diwali) usually falls during October or November, and Akshaya Tritiya between late April and early May. Hence retailers across the country introduce attractive designs in the run-up to these occasions. On average around 40-60t of gold is sold in India during these two auspicious festivals alone.   Underlining the importance of these occasions, the household survey of India Gold Policy Centre-IIM Ahmedabad (IGPC-IIMA) found that 65-70% of respondents cited festivals as their main gold purchase occasion, with Dhanteras and Akshaya Tritiya accounting for 30-35% of these purchases.  And with prominent overseas Indian populations, the Middle East and East Asia also see significant gold buying at these times. 
Finally, agriculture makes up an important part of Indian gold demand. Even though the sector now accounts for less than 19% of the Indian economy, a large swathe of rural India is still dependent on agriculture and related industries.  Put another way, while there has been rapid urbanisation across much of the country, 65% of the population still lives in rural India, highlighting the importance of agriculture as a key driver of gold demand.   Gold demand in rural communities usually picks up after the harvest season. Harvesting of Kharif crops runs from September until November and about 70% of Indian agricultural production takes place during the Kharif season.
As shown in the heatmap below, the combination of the wedding season, harvests and festivals means that demand tends to be concentrated in two periods: April to June, and September to January.

Indian jewellery segmentation
Indian jewellery consumption can be divided into three categories: bridal, daily wear and fashion jewellery. Each category has its own characteristics and offers different products, sizes and designs. That said, there is some cross-over between products, such as bangles and chains, as these are not limited to one segment.
Despite this crossover, one can differentiate in terms of size and weight and therefore decide into which category a product should fall. For example, bangles ranging from 10-20g tend to count as daily wear, whereas those that are 25g and above are considered bridal products. When measured by the number of sales, bangles and chains are the most popular items, but when measured in gold content, necklaces are the most important.
The importance of bridal gold jewellery
If we analyse the gold jewellery market by weight, the importance of weddings and bridal wear is clear. India is a young country with more than half the population below the age of 25 (and 65% under 35). Although there are no official figures for the number of weddings in India, an estimate is between 11 and 13 million per year. As the average age of marriage for women in India is 22, the number of weddings per annum looks set to remain strong. Considering these numbers, demand for bridal jewellery should remain robust over the long term.
Another important factor as to why bridal jewellery makes up a key component of gold demand is the concept of streedhan – property that a woman receives at the time of marriage, given to her as security, which remains hers to keep. An additional, albeit much smaller, element of wedding-related demand comes from jewellery gifted to the immediate family of the bride and groom, as well as jewellery that wedding guests buy to wear themselves.
The field research undertaken by Metals Focus reveals some interesting trends. Bridal jewellery remains the dominant segment (approx.50-55% market share by weight), despite rising domestic gold prices over the last decade and stiff competition from other luxury purchases, such as destination weddings and foreign holidays. The rupee gold price has almost doubled since 2012, encouraging manufactures gradually to shift towards lighter weight pieces, but bridal jewellery has been relatively price inelastic, losing only around 5-10% market share in that time. Furthermore, bridal jewellery has faced increasing and stiff competition from other luxury purchases, such as destination weddings and foreign holidays. Wedding jewellery tastes vary considerably across different regions.
Plain gold jewellery dominates the landscape
The Indian gold market has witnessed several changes, driven by both regulation and consumer behaviour. Amid these, plain gold jewellery has maintained its dominant 80-85% market share. Most plain gold jewellery sold in India is 22-carat, but there is a growing market for 18-carat pieces.
Studded jewellery has an estimated market share of 15-20%. In Northern India this share is considerably higher, in contrast to the South where consumers are more inclined towards plain gold products. 60-70% of these pieces are set with diamonds; the other key segment of studded jewellery pieces are those set with precious or semi-precious stones. This type of jewellery, which is extremely popular across much of the country, is termed Polki, Kundan or Jadau, and is manufactured in the states of Rajasthan, Gujarat, Andhra Pradesh, and West Bengal.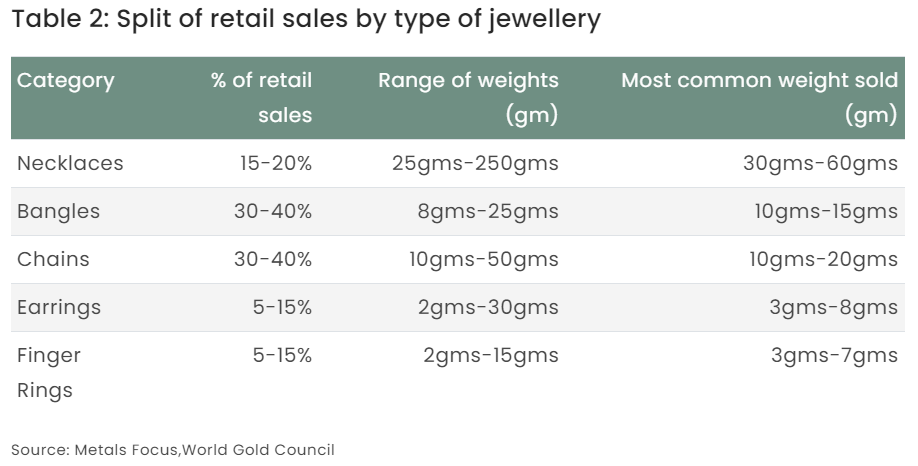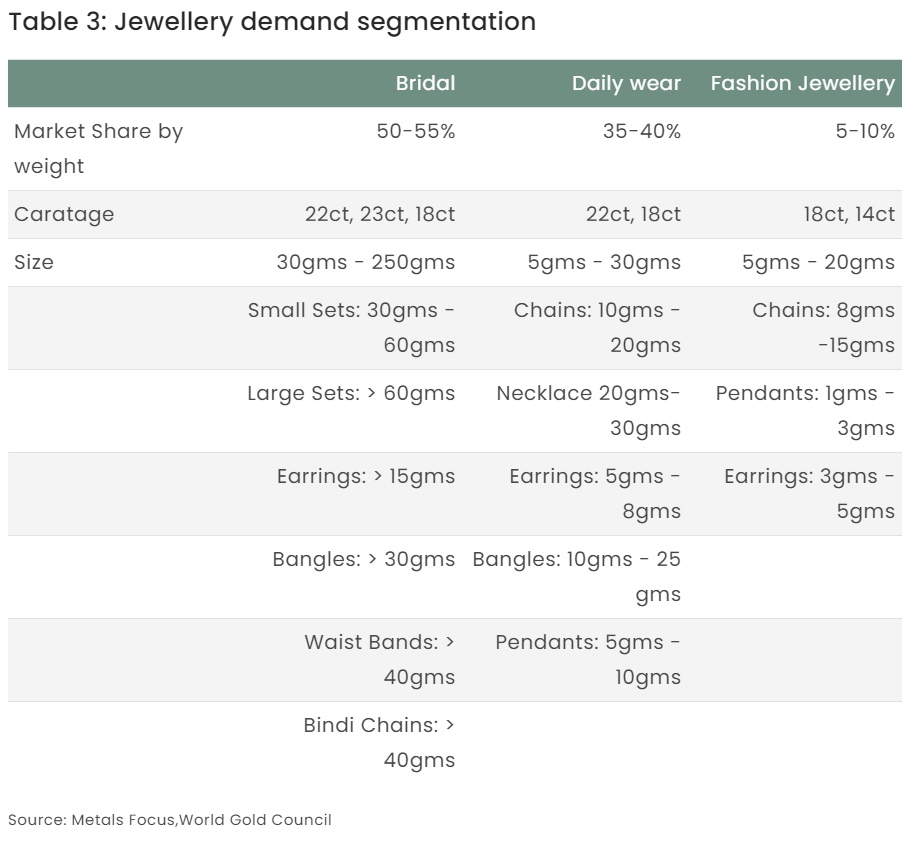 Studded jewellery has an estimated market share of 15-20%. In Northern India this share is considerably higher, in contrast to the South where consumers are more inclined towards plain gold products. 60-70% of these pieces are set with diamonds; the other key segment of studded jewellery pieces are those set with precious or semi-precious stones. This type of jewellery, which is extremely popular across much of the country, is termed Polki, Kundan or Jadau, and is manufactured in the states of Rajasthan, Gujarat, Andhra Pradesh, and West Bengal.
Focus 1: Changing dynamics of Indian jewellery demand
With a company history of more than five decades, Senco Gold and Diamonds has witnessed considerable change in the Indian jewellery market. These developments have occurred both at the retail and trade level. The chief catalyst was the liberalisation of the economy in 1991, which kick-started India's economic growth. The resultant gains in consumer incomes, which have continued over the last three decades, have given rise to a large middle and upper middle class in India. Consumers are now more informed than ever, contributing to some notable shifts across the retail jewellery market.
To begin with, economic liberalisation paved the way for abolishing the Gold Control Act, which allowed the metal to be freely imported. This helped the retail trade to flourish as it became much easier to source gold. In addition, with incomes rising, tastes and preferences for jewellery have also changed. For instance, with better exposure to Indian and global trends, due to rising travel and internet penetration, jewellery tastes are no longer local and traditional. A consumer in the South of India is no longer opposed to Jaipur jewellery or studded diamond jewellery. Similarly, temple jewellery, which is widely popular and traditionally bought only in the South, now has acceptance even in the North. Modern takes on traditional jewellery are also increasingly popular, and young consumers are no longer fixated on buying only traditional pieces. The concerted shift from local to regional and national buying patterns has largely benefited chain stores, whose market share has grown sharply in recent years.
Separately, consumer behaviour has also been affected by the trend in rupee gold prices, which have touched record levels. Consumers normally have a fixed budget when they visit stores and so the amount of gold they can buy will vary with changing gold prices. As a result, over the last five to six years retailers and manufacturers have increasingly focused on lightweight products to satisfy a range of budgets. This is important, even for traditionally heavy bridal pieces and temple jewellery. As a result, I believe, over the years there has been at least a 10% drop in average product weights.
"Aside from moving to lighter pieces, the daily wear segment has seen some key developments. Most important, I believe, has been a trend embracing modern designs to fit Western attire, which has seen increased demand for lower caratages, notably 18-carat and 14-carat. Given that more than 65% of the Indian population is below 35, their choice of jewellery differs greatly from earlier generations as younger consumers tend to prefer Western clothing.
Another significant development over the last decade has been the penetration of mobile phones and low-cost internet. About a decade ago very few jewellery retailers focused on online sales, but today every large and mid-sized retailer has an online platform. Even for us, online jewellery sales now account for between 5-10% of our overall sales, which have been growing since the pandemic. Lastly, rising internet access and the advent of social media have allowed retailers to interact directly with their consumers in new ways to create brand awareness and drive sales.
From a regulatory perspective, successive governments have taken steps that have impacted the trade and consumer behaviour. These include a sharp increase in import duty, restrictions on cash transactions, compulsory declaration of PAN Card on high-value transactions, demonetisation, the introduction of the Goods and Service Tax (GST) and compulsory hallmarking. While the increase in import duty did initially help the unorganised trade, demonetisation and GST have supported the growth of organised operations. Numerous research agencies attest that chain stores are gaining market share in India. This trend has also been due to changing consumer behaviour and growing awareness about quality and price transparency. The clampdown on cash usage has also seen more consumers adopt digital payment modes, which is a positive sign.
Overall, I believe the Indian market will continue to evolve as the younger generation drives trends and as organised retailers gain market share. Retailers are trying to tap into the sizeable young population by offering products that suit their tastes and budget. It has made us adjust not just our product offerings, but also how we do business and interact with consumers."
Suvankar Sen
MD, Senco Gold and Diamonds Pvt ltd