Maharashtra: Three injured in broad day light robbery attempt in Ambernath jewellery shop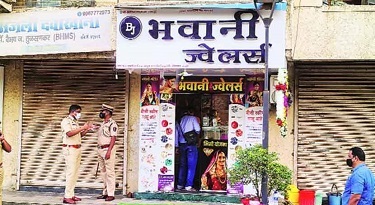 AMBERNATH: Three people were seriously injured after four to five robbers with revolver and chopper enter into Bhavani jewellery shop in Ambernath and tried to steal jewellery.
After the shop owner raised alarm, the robbers opened fire and also attacked him with chopper. They later fled from spot.
The injured were identified as Vasan Singh (26) his brother Laxman Singh (30) and staff Bhairav Singh (25).
The incident happened on Sunday at 1.30pm in Servoday Nagar area in Ambernath, where the robbers came on two motorcycles and made the staff Bhairav, who was alone in the shop, hostage on gunpoint. The asked him to handover all valuables.
Sources said when the owner Vasan and Laxman arrived at the shop, they saw the door closed from inside. A soon as they opened the shop, the robbers opened fir on them in which Laxman suffered two bullet injuries.
Vasan and Laxman suffered serious injuries while Bhairav suffered injuries marks due to stabbing.
The robbers after failing in their mission fled from the spot.
The robbers managed to take 25 tolla gold jewellery worth Rs 7 lakh. Prashant Mohite, deputy commissioner of police, Zone 4 of Thane said, "five separate teams have been formed which include cops from the crime branch as well".
Courtesy: TOI