GJEPC presents 36th edition of India International Jewellery Show(IIJS)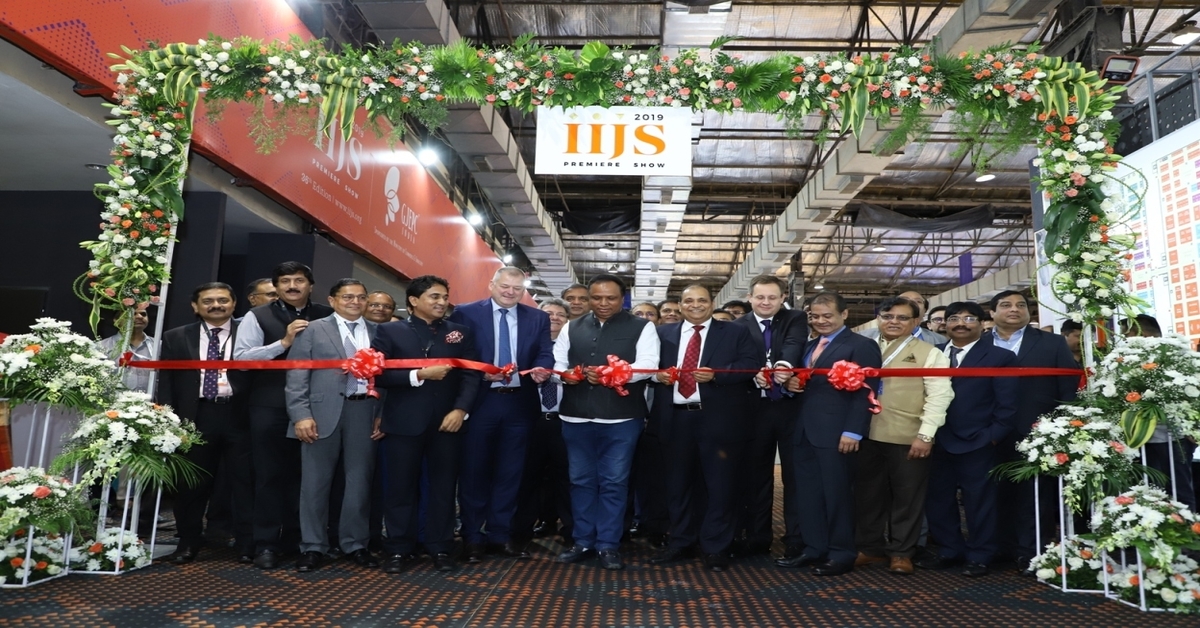 World's leading gem & jewellery trade show IIJS Premiere 2019 hosts 1,300+ exhibitors and 40,000 global buyers from 800 cities & 80 countries
GJEPC Chairman urges Indian gem & jewellery exporters to tap USD 6bn opportunity from US-China trade war; targets 2.5 mn Parichay Cards for G&J workers & craftsmen with Swasthya Ratna insurance/ mediclaim benefits
India is the pulse and heartbeat of the global trade and IIJS Premiere 2019 will jumpstart the shift towards a new order in the business, says De Beers' EVP  
Mumbai, 8th August, 2019: The Gem & Jewellery Export Promotion Council (GJEPC) presents the 36th edition of the world's foremost & prestigious gem & jewellery trade show – India International Jewellery Show – IIJS Premiere 2019 – being held in the City from 9th to 12th August 2019 at the Bombay Exhibition Centre, Goregaon, Mumbai.
Shri Ashish Shelar, Maharashtra State Minister of School Education, Sports & Youth Welfare, inaugurated IIJS Premiere 2019 in the presence of Mr. Pramod Kumar Agrawal, Chairman, GJEPC, Guests of Honour Mr. Paul Rowley, Executive Vice President, Diamond Trading & Distribution, De Beers Group; and Mr. Evgeny Agureev, Director, United Selling Organisation, Alrosa; and Mr. Colin Shah (Vice Chairman, GJEPC), Mr. Mansukh Kothari (Convener, National Exhibitions, GJEPC), Mr. Kirit Bhansali (Co-Convener, National Exhibitions, GJEPC & Committee of Administration, GJEPC) and Mr. Sabyasachi Ray (ED, GJEPC) amongst others. IIJS Premiere 2019 sets new benchmarks in terms of participation with 1,300+ exhibitors, 2,500+ booths and 40,000 global trade visitors from 800+ Indian cities and 80 countries.
Mr. Pramod Kumar Agrawal, Chairman, GJEPC, said, "Gem and Jewellery trade of India needs to adapt itself with the changing world scenario. India is well placed in this changing world order. With the US putting a 10% duty on Chinese exports of gem & jewellery, India has a potential opportunity to grab market share of a USD 6 bn opportunity. On one side, India is engaged in trade negotiations with the Eastern world and we are in the way to sign bilateral and multilateral trade with RCEP, which controls 1/3 of the world trade and include China, Indo-Japan CEPA, Indo-Korean CEPA, etc. The sector is facing challenges globally and sustaining demand for the product is most important. We are happy that post our meetings and representation, De Beers investing around USD 175 mn globally and Alrosa is also adding funds through Diamond Producers' Association and their individual offices too,"
"Our vision is to increase the gem and jewellery exports to USD 75 billion and create an additional 2 million jobs for the people by 2025. Our Hon'ble Minister Piyush Goyal ji and his entire team at Union Ministry of Commerce and Industry have been very supportive towards the industry & I would like to thank them for the recent trade-friendly policy announcements. The Govt. recently introduced a separate 8-Digit HS Code for Lab-grown/ Synthetic Diamonds, making India one of the early adopters of distinct HS Codes for both rough and polished synthetic diamonds, which is a consumer-friendly and trade-friendly initiative that enhances the ease of doing business. The Council's main emphasis will be to promote the small jewellery exporters and bring value addition through exports to the country. We will be offering the Mediclaim insurance scheme to Parichay card holders though Swasthya Kosh fund. We have approached De Beers and Alrosa to fund this project. We have a target from Govt. to distribute 2.5 million Parichay cards." GJEPC launched Parichay Card aimed at workers engaged in gem and jewellery sector. The objective is to provide them to find financial support from banks and provide better healthcare services through the customised health insurance plan." added Mr. Agrawal.
Mr. Agrawal, further said, "We request the Govt. implement the recommendations of the council for SEZ policies on the fast track, as SEEPZ in Mumbai, Sitapura in Jaipur, Noida in Delhi, Surat in Gujarat are the main hubs for gem and jewellery exports to the US and China. Another area that we are focusing on is infrastructure development for our industry. After setting up Common Facility Centres (CFCs) in Gujarat, we have plans to set up CFCs across all major gem and jewellery clusters such as Coimbatore, Kolkata, Hyderabad, Rajkot, Delhi, Bhavnagar, Ahmedabad & Surat. Council along with NCAER is undertaking cluster mapping study across all Gem & Jewellery clusters of India. This would enable the council to chart development plans for all clusters."
Shri Ashish Shelar, Maharashtra State Minister of School Education, Sports & Youth Welfare, said, "Jewellers search for precious stones, give them shape and form to create diamonds that are forever. Similarly, we also search for talented bright sparks who will become the future of the country. Maharashtra has always supported industry and enterprise and we have extended our support to the gem & jewellery business too. The State has extended wholehearted support and cooperation to the GJEPC in creating the country's first ever Jewellery Park coming up in Navi Mumbai. I believe that the Jewellery Park will attract investments of around Rs. 14,000 crore and create 1 lakh jobs. Maharashtra will be at the forefront of giving requisite infrastructure and benefits to MSME jewellery manufacturers and exporters who are looking to invest more in their facilities and factories. We are happy to note that the Council is investing for the welfare of gem & jewellery sector workers in terms of mediclaim and subsidized health insurance plans." The Swasthya Ratna launched by GJEPC in 2015 provides subsidized health insurance and has covered over 4.70 lakh lives and disbursed over Rs. 100 crore till May 2019.
Mr. Paul Rowley, Executive Vice President, Diamond Trading & Distribution, De Beers Group, said, "In the face of external and internal challenges facing the global gem & jewellery business, we are inspired by the energy, enthusiasm, enterprise and entrepreneurial spirit displayed by Indian gem & jewellery exporters. India is the pulse and the heartbeat of the global gem & jewellery trade. Within a few years, two-thirds of the millennial population of the world will be in India. IIJS Premiere 2019 will jumpstart the shift to a new order in the global gem & jewellery trade. We shall work collectively and in collaboration with the Council to tap various opportunities and enhance demand." Mr. Evgeny Agureev, Director, United Selling Organisation, Alrosa, also extended his support to the GJEPC.
GJEPC, in association with Jewellers Association, Jaipur has plans to set up Gem Bourse at Jaipur. The Gem Bourse will have more than 2000 offices of coloured gemstone manufacturers and traders along with the offices of customs, banks, and other service providers at one place. This will fulfil the requirement of international and national buyers for any kind of gemstones at one place. GJEPC has gem and jewellery institutes in Mumbai, Delhi, Jaipur, Surat, Varanasi and Udupi. Some of them offer graduation and post-graduation courses as well.
At IIJS Premiere 2019, the booths comprise clearly defined sections: Couture, Mass Produced, Plain Gold, Loose Stones, International Pavilions, Synthetics & Simulants, Laboratories & Education, Allied, Hall of Innovation and Special Clusters (MSME sector).
Coinciding with IIJS Premiere 2019 is 'Jewellers for Hope' – a Charity Dinner event organised by GJEPC. This year the charity proceeds will go to Indian Army Welfare, Tribal Integrated Development & Education Trust (TIDE) and Srimad Ramchandra Love & Care (SRLC).
GJEPC is organizing an exclusive Networking evening for select IIJS visitors on 9th August 2019. The said evening is being organized with an objective to create a Networking platform amongst IIJS participants to enhance business prospects.
IIJS Machinery Show is taking place at Hotel Lalit and Hotel Leela Sahar Airport, Mumbai with a total of 155 exhibitors including 24 international exhibitors from Italy, Germany, Turkey, USA and UAE. Products on display: Jewellery Manufacturing Machines, Diamond manufacturing machines, Gemstones Machinery, Casting & Electric Casting Equipment, Precious Alloy, Refinery Ingredients, Tools & Equipment, Box and packagings, IT and software solutions, alloys, etc.
The Spectrum Seminars series will revolve around the theme of 'Growth Strategy for Jewellery – retail growth, upgrading skills, raising education standards and knowledge levels; issues related to taxation and GST; natural mined and lab-grown diamonds amongst others.
About GJEPC: The Gem & Jewellery Export Promotion Council (GJEPC) was set up by the Ministry of Commerce and Industry, Government of India (GoI) in 1966. It was one of several Export Promotion Councils (EPCs) launched by the Indian Government, to boost the country's export thrust, when India's post-Independence economy began making forays in the international markets. Since 1998, the GJEPC has been granted autonomous status. The GJEPC is the apex body of the gems & jewellery industry and today it represents over 6,000 exporters in the sector. With headquarters in Mumbai, the GJEPC has Regional Offices in New Delhi, Kolkata, Chennai, Surat and Jaipur, all of which are major centres for the industry. It thus has a wide reach and is able to have a closer interaction with members to serve them in a direct and more meaningful manner. Over the past decades, the GJEPC has emerged as one of the most active EPCs and has continuously strived to expand its reach and depth in its promotional activities as well as widen and increase services to its members.
Courtesy: Retail Jeweller India News Service