Malabar Gold & Diamonds signs on superstar NTR Jr as brand ambassador again
Signing the superstar is in line with the group's aim to further expand its customer base and build a stronger consumer connect in Andhra Pradesh and Telangana region and beyond
Jewellery retail group Malabar Gold & Diamonds has signed superstar Nandamuri Taraka Rama Rao Jr, also known as NTR Jr, as its newest brand ambassador. NTR Jr. will be featured in the upcoming consumer campaigns of Malabar Gold & Diamonds. A prolific actor and a pan-India superstar attracting global attention, NTR Jr reflects the core values of the group, i.e., trust, transparency and excellence, with his affable and grounded persona.
The second innings of NTR Jr as the brand's ambassador will make Malabar Gold & Diamonds' 30th anniversary even more glittering. Signing the superstar is in line with the group's aim to further expand its customer base and build a stronger consumer connect in Andhra Pradesh and Telangana region as well as across India and around the world.
Speaking about the association, NTR Jr said, "I am happy to be associated once again with Malabar Gold & Diamonds. Apart from being one of the most trusted jewellery brands, they are actively showcasing Indian designs, art & culture at the global stage. Their customer-centric promises and ESG initiatives have established their leadership in the industry. I see great synergy between the values I believe in and what the brand stands for."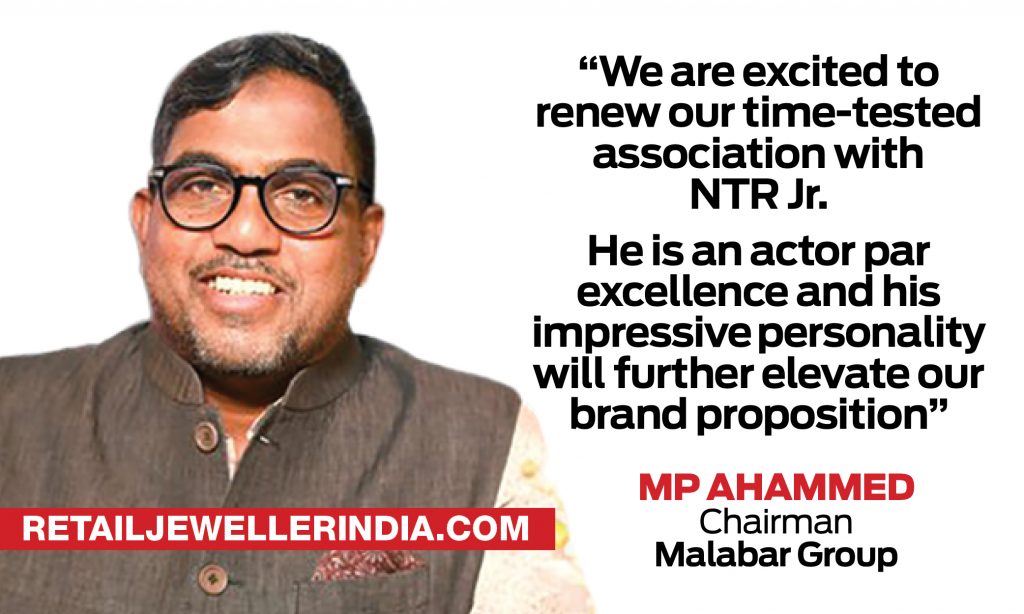 Commenting on associating with NTR Jr., MP Ahammed, Chairman, Malabar Group said, "We are excited to renew our time-tested association with NTR Jr. He has emerged as one of the widely admired movie stars in India across regions. His outstanding filmography underlines his command over the craft of acting. He is an actor par excellence and his impressive personality will further elevate our brand proposition. We had an amazing association in the past with NTR Jr and the revival of the relation will help accelerate the acceptance of the brand globally in our ambition to be the No. 1 global jewellery retailer. As we celebrate our 30th anniversary this year, we would like to reaffirm our commitment to offering our valued customers excellence in transparency, jewellery variety and craftsmanship along with a world-class jewellery shopping experience."
The company, established in 1993, has a strong retail network of over 320 outlets spread across 11 countries in addition to multiple offices, design centers, wholesale units and factories spread across India, UK, Middle East, Far East & USA. The group, owned by more than 4,000 shareholders, employs 18,500 professionals from over 26 countries.
Retail Jeweller India News