MK Jewels Gives Saree-Jewellery Combo Experience for a Complete Look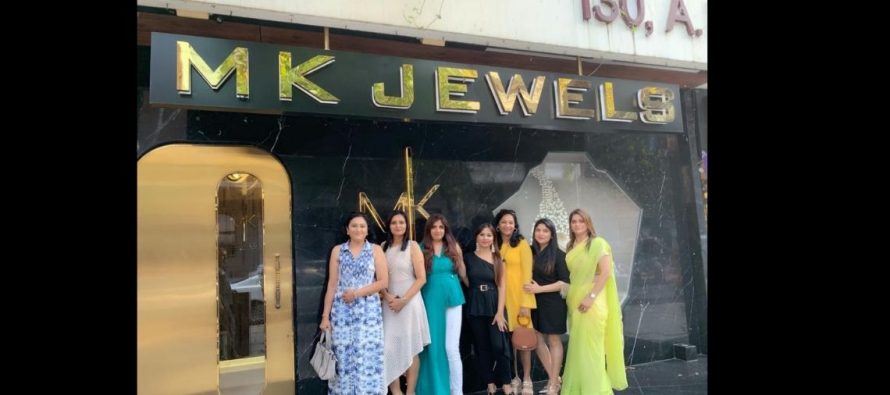 The event was a unique concept as apart from the different ways of draping a saree, the participants also got valuable tips on summer beauty trends and personalised health regime by other experts.
Jewellery is now an accessory for a complete look, be it for any occasion. Thus, it's wise to give a customer a wholesome picture of how pretty one looks, irrespective of the product to be sold. Aptly targeting the desire to have a complete grand look, MK Jewels, Bandra roped in fashion designer and saree specialist Shaina NC and few other women experts for an event that brought together MK Jewels' patrons to devour all things jewellery, fashion and beauty. This gave an enhanced shopping experience to their buyers.
Speaking about the unique event, Neelam Raimalani, Director, MK Jewels said, "We collaborated with some amazing women. 'The Queen of Drapes' Shaina NC demonstrated more ways than one to drape a sari, while makeup artist Seema Vanwari illustrated summer beauty trends with an open-to-all makeup tutorial. Doctor Sameer Gupta took guests through a personalised health regime; Aesthetic Dentist Doctor Swati Bharti shared oral care insights while MK Jewels displayed their newest collection of real diamonds, gold and CZ jewellery."
The event saw a gathering of MK Jewels clientele convene over an afternoon and the idea was to offer a preview of their new collection, which was received very well. Shaina NC has updated countless saree lovers among the young generation with her unique ways of draping the Indian traditional dress that look both trendy and aesthetic. Teaming up with gold, diamond and CZ jewellery of MK Jewels, it was a saree fashion crash-course for the audience therein.
Ram Rahimalani, owner, MK Jewels, said, "Today, jewellery is no longer a stand-alone luxury item but an indispensable accessory for fashion. So we feel it's necessary to exhibit the complete look before the buyer. Sarees will remain trendy for eternity and this is a good opportunity for boosting jewellery sale."
Adding further, Neelam said that each time they host an event, the customer is their primary thought. "This time the idea was to deliver a unique event concept to the customers and offer jewellery and fashion in one roof. One accentuates the other and hence, the fitment was very organic. Every event brings its own merit. We have experienced an increased footfall in some, while an upsurge in sale or increased awareness in others," Neelam said before signing off.
Manoj Chakraborty